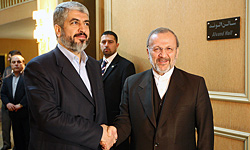 TEHRAN (FNA)- The international community and the Islamic world should restore the Gaza Strip destroyed by Israel's recent three-week military offensive, Iranian Foreign Minister Manouchehr Mottaki said.
The Israeli assault, which lasted from December 27 to January 18, killed some 1,400 Palestinians, injured more than 5,500, and caused widespread damage and destruction, the UN said.
At a joint press conference with Khaled Meshaal, the Syria-based Hamas political leader who had arrived in Tehran, Mottaki said that now it was important to relieve the sufferings of Gaza residents and restore the enclave destroyed during the 22-day aggression by the Zionist regime.
Mottaki spoke for the immediate lifting of the Gaza blockade and the reopening of the Gaza port and border crossings for the delivery of humanitarian cargoes.
Mottaki urged other countries to take maximum efforts to reconstruct Gaza and offer help to the needy people through the legitimate Hamas government.
Hamas has run the Gaza Strip since June 2007, after it ascended to power through parliamentary elections.
The Israeli attack on Gaza is estimated by the Palestinian Central Bureau of Statistics to have caused nearly $2 billion worth of damage.