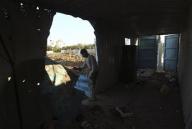 RAMALLAH, West Bank  – The government of Western-back Palestinian President Mahmoud Abbas announced on Wednesday a $600 million reconstruction program for the war-battered Gaza Strip.
Prime Minister Salam Fayyad, who heads Abbas's West Bank-based government, said the program would cover all Palestinian houses destroyed or damaged during Israel's 22-day military offensive in the Hamas-ruled enclave.
The United States and its allies want credit for reconstruction to accrue to Abbas's Palestinian Authority, and not to the Iranian-backed Islamists who won a 2006 election and forcibly seized control of the Gaza Strip 18 months later.
While Abbas's government would take the lead in planning the rebuilding, it has scant presence on the ground in the Gaza Strip, meaning reconstruction work would initially have to be done by U.N. agencies and contractors, Western diplomats said.
"The amount of the project is $600 million. Most of it will come from donors," Fayyad said in a speech in the West Bank city of Ramallah. He said further details would be announced later.
Fayyad said his government would contribute $50 million of its own money to the United Nations to assist Gazans.
Egypt is to host an international conference on March 2 on Gaza reconstruction, in coordination with the Palestinian Authority. The cost of renewal is estimated at $2 billion.
It is unclear how soon reconstruction will get under way, both because of Palestinian infighting and Israel's resistance to letting in building supplies.
Hamas has announced its own plans to spearhead Gaza's post-war reconstruction and has promised to pay each family whose home was destroyed some $5,000.
While Israel has opened Gaza's border crossings to larger amounts of food and medicine, it has so far balked at letting in glass, steel and cement. Israeli officials say these materials could be used by Hamas to build rockets, bunkers and tunnels.
Israel has also prevented Abbas's government from transferring cash from the West Bank to the Gaza Strip to pay the tens of thousands of Palestinians on its payroll, casting doubt on Fayyad's ability to carry out any reconstruction there.
Israeli defense official Peter Lerner said the Jewish state has agreed to allow the entry of 10 million Israeli shekels ($2.5 million) into the Gaza Strip, in exchange for the same amount of worn-out shekel banknotes.
But Israel has refused to let in the 237 million shekels ($58 million) requested by Abbas's government to pay Gaza salaries, Palestinian and Western officials said.
As a result, Fayyad said salary payments to Palestinian Authority employees would be delayed by two weeks.
Fayyad put the Palestinian Authority's 2009 budget at $3.2 billion, up from $2.8 billion the year before, with almost half of it going to government salaries.
He added that foreign aid for running costs would likely be less than the $1.76 billion received in 2008.