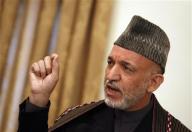 KABUL  – Afghan President Hamid Karzai renewed criticism of U.S. and NATO-led forces on Wednesday and said he was determined his government would take a stronger role in the deployment and work of foreign troops.
Last month, Karzai's government presented a draft proposal to NATO with a list of measures aimed at preventing civilian casualties, including a demand that arrests of all Afghan nationals be made by Afghan security forces only and that there be "high-level" co-ordination of air strikes.
"Our demands are clear and they are that house searches of Afghans, arrests of Afghans and civilian casualties must cease. And they (U.S. and NATO countries) are naturally putting on pressure to make us silent and retract from this claim. This is not possible," Karzai said.
Taliban attacks rose by 33 percent last year, according to NATO-led forces in Afghanistan, with casualties among foreign soldiers, Afghan forces and civilians alike, all up from 2007.
The U.N. said on Tuesday the civilian death toll in 2008 had increased by 40 percent to 2,100, more than a third of them killed by Afghan and foreign forces.
As violence has increased, so have the tensions between Karzai and his Western backers.
Karzai, facing elections in August, has repeatedly called for an end to civilian casualties caused by foreign troops, while Western leaders constantly call for "good governance" — implied criticism of Karzai's ability to rule effectively.
"LIFE, LAW AND HONOR"
The United States is planning to deploy up to 25,000 more troops to Afghanistan, but Pentagon and NATO officials have said a military build-up will be futile in the fight against insurgents, unless it is accompanied by a stronger government.
Karzai has also lost much domestic support because of his perceived closeness to the United States and because many voters believe he has largely failed to curb corruption.
The president said he had not yet received an answer to the draft agreement sent to NATO, but would not let the matter lie.
"Afghanistan and its president will not reverse from this request and will continue with our proposal and suggest an end to civilian casualties, house searches and arrests of our people," Karzai told reporters at a press conference with U.N. Secretary General Ban Ki-moon in Kabul.
"But Afghanistan wants its life, law and honor and life of its people to be protected in this war therefore, we hope that instead of directly putting pressure on us through the press, (they) sit with us for talks over our request."
Ban said he fully shared the concerns and frustrations that Karzai had endured and urged stronger coordination between civilian and military powers to reduce the number of civilian casualties.