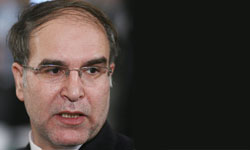 TEHRAN (FNA)- Iranian Ambassador to Pakistan Mashaallah Shakeri Wednesday pointed to the West's biased stance towards the world of Islam as among the Muslims' major concerns.
Criticizing some Western countries' stance toward Muslims and linking them to terrorism, Shakeri said in a seminar dubbed as 'Future Agenda of Change, Role for the Muslim World' in Islamabad, that Muslims believe that the war on terror is for crushing them.
He noted that another reason for Muslims' concern is that the West resists against recognition of Islamic countries' changes, including what happened in Iran's Islamic Revolution.
He also described major powers' unilateralism in South Asia and the Middle East as another cause for Muslims' concerns.
The Iranian diplomat also expressed hope that US President Barack Obama's policies regarding Muslims would be different from those of Bush, and said Iran would positively respond to any change by the new US administration.
Reminding the world nations' hatred for war and bloodshed, he urged the new US administration to work on democracy and peace and respect Muslims.
In international relations, war is not the solution to problems, the Iranian diplomat reiterated.