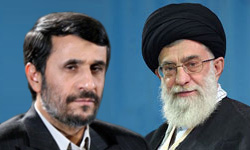 TEHRAN (FNA)- Supreme Leader of the Islamic Revolution Ayatollah Seyed Ali Khamenei lauded Iran's latest achievement in launching the home-grown 'Omid' satellite on Tuesday.
In his response to Iranian President Mahmoud Ahmadinejad's letter, Ayatollah Khamenei appreciated the Iranian scientists and managers' efforts that led to the successful launch of the telecommunications satellite.
This domestic achievement indicates that the hopes created by the Islamic Revolution in the hearts of the Iranian people are true, he reiterated.
Iran successfully sent its first domestically made satellite into orbit on Tuesday morning, heralding a new era in Iran's space program.
The satellite called Omid (Hope) was launched early on Tuesday after Iranian President Mahmoud Ahmadinejad gave the order to proceed.
Omid was sent into space by the Iranian-produced satellite carrier Safir 2 (Ambassador-2) rocket, which is an upgraded model of carrier Safir 1.
Equipped with two frequency bands and eight antennae, Omid will transmit information to and from earth while orbiting the planet 15 times per day.
The lightweight telecommunications satellite is equipped with remote sensing, satellite telemetry and geographic information system technology as well as remote and ground station data processing.
Omid is a research satellite that has been designed for gathering information and testing equipment. After orbiting for one to three months, Omid will return to earth.
Omid carries experimental satellite control devices, communications equipment and power supply systems to a distance of 250 to 350 kilometers from the earth's atmosphere.
The launch of Omid comes amid celebrations of the 30th anniversary of victory of the 1979 Islamic Revolution.