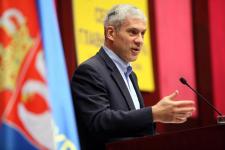 Serbia is ready to talk about practical issues regarding life in Kosovo as long as discussions do not touch on Kosovo's declaration of independence, Serbian President Boris Tadic said on Tuesday, indicating Belgrade would only accept the United Nations mission in Kosovo, UNMIK, not the ethnic Albanian government in Pristina, as interlocutors.
"If UNMIK is the institution that goes towards Serbia's state authorities, we are ready to negotiate," Tadic told a meeting of his Democratic Party.
"We are always ready to speak with the legitimate representatives of the Kosovo Albanians about all key, daily life issues concerning not only Albanians, but also Serbs and other non-Albanians who live in Kosovo. But these issues must not question Serbia's territorial integrity and sovereignty," he said.
The statement echoes Belgrade's official position that UNMIK is the main legitimate authority in Kosovo according to UN Resolution 1244 that ended the 1998-99 war between Serb forces and ethnic Albanian guerrillas. The territory declared independence last February, but Belgrade said it will never recognise the secession and still considers Kosovo as its southern province.
Serbia has never given any sign that it accepts Kosovo's President or Prime Minister as 'legitimate representatives' of the ethnic Albanian majority and is fighting to keep UNMIK as the designated counterpart in any dealings with Kosovo, such as the role of signatory in regional treaties or when discussing the rights of the Serb minority in Kosovo. Kosovo's government in Pristina on the other hand is trying to take its place as UNMIK's formal successor in the international arena.
"We are now in a particular phase of Serbian-Albanian conflicts," Tadic added, as quoted by Serbia's Beta news agency.
"Serbia doesn't wish for any harm to come to Albanians, we want sustainable, good interethnic relations, but they have to be set in a way that would not put in jeopardy Serbia's legitimate state interests and our country's integrity."
International officials have long said that Belgrade and Pristina must discuss so-called 'technical issues', but there has been no timetable, no agenda, and confusion reigns as to whether officials from the respective capitals will attend and whether they will go as equals.
The three international organizations supposed to decide on the format and the agenda of the negotiations are UNMIK, the European Union's justice and policing mission EULEX, and the Office of the Special Representative of the European Union, in Pristina.
Kosovo leaders have indicated they do not want the negotiations to be led by UNMIK, arguing that its mission expired on December 9, and prefer that negotiations be led by the US and the EU.