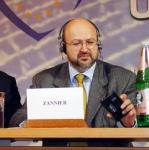 The head of the United Nations Mission in Kosovo, Lamberto Zannier, is negotiating with both Belgrade and Pristina to start talks on 'technical issues', but it is still unclear whether top state officials or experts will take part, UNMIK spokesman Alexander Ivanko told Serbia's B92 radio.
"Ambassador Zannier met Serbian Foreign Minister Vuk Jeremic a few days ago in New York and plans to meet the Kosovo government on Thursday morning," Ivanko said. "On the basis of those talks he will decide on which direction the United Nations should take things further."
He said the issues will be discussed at the technical level and "most probably several international subjects, including European Union mission, EULEX, will also be included."
Serbia rejects Kosovo's secession last February and has vowed to never recognise it as an equal independent state. Serbian President Boris Tadic said on Tuesday Serbia was ready to talk about practical issues regarding life in Kosovo if talks were mediated by the UN and as long as discussions do not touch on Kosovo's declaration of independence.
International officials have long said that Belgrade and Pristina must discuss so-called 'technical issues' especially regarding the Serb minority in Kosovo, but there has been no timetable and no agenda. The three international organizations supposed to decide on the format and the agenda of the negotiations are UNMIK, the European Union's justice and policing mission EULEX, and the Office of the Special Representative of the European Union, in Pristina.
Kosovo leaders have indicated they do not want the negotiations to be led by UNMIK, arguing that its mission expired on December 9, and prefer that negotiations be led by the US and the EU.