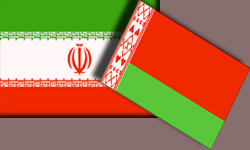 TEHRAN (FNA)- The ninth session of the joint Iran-Belarus commission for economic cooperation will be held in Minsk on February 9-13, a Belarus spokesman said.
The Belarusian part of the commission is led by Industry Minister Anatoly Rusetsky, the Iranian part – by Trade Minister Masoud Mir-Kazemi. The Iranian delegation will consist of a large group of businessmen.
The session will focus on the issues related to the expansion of the trade and economic cooperation between the two countries and an increase in mutual trade.
Great attention will be turned to the implementation of the joint investment projects. Besides, the experts will hold consultations on improving the treaty-legal base of the Belarusian-Iranian cooperation, Belarusian Foreign Ministry Spokesman Andrei Popov told a press briefing on February 5.
The Belarusian Chamber of Commerce and Industry will host a business forum and a contact and cooperation exchange.