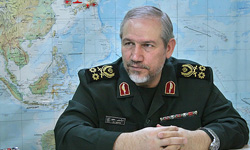 TEHRAN (FNA)- Iran's armed forces have foiled a scenario by Washington to complete its chain of threats to the region by opening a front against Iran following the US invasion of Afghanistan and Iraq, a senior military advisor to the Iranian Supreme Leader said here Wednesday.
"Iran was the third ring in (the US) threats after the war on Afghanistan and Iraq and the Zionist Regime was encouraging US to launch the attack (on Iran)," Major General Yahya Rahim Safavi told FNA.
Regarding Iran's measures to defuse the plot, the former commander of the Islamic Revolution Guards Corps (IRGC) added, "The sagacious policy of the supreme leader, performance of the armed forces and Iran's preventive power shown in different military maneuvers foiled the threat."
He also reiterated that the Iranian armed forces were powerful enough to defuse enemies' plots even after the imposed Iraqi war on the Islamic Republic.
"Now, they do not have the political, economic and military power for war on Iran and their people will not support them. They also know that Iran's response is not perceivable."
He also stated that military threats against Iran decreased following the US invasion of Iran's western and eastern neighbors and added, "…on the other hand, US forces have been bogged down in Iraq after Iraqi Muslims' resistance."
Reminding US military casualties in Iraq, Safavi noted that billions of dollars of war spending by the US accompanied by the American public opinion pressures against Abu Ghraib and Guantanamo prisons and the US military operations in different countries like Iraq have all caused growing anti-US sentiments in the world.
"Now, American warships and fighter jets are around Iran," the General said, reiterating that "dealing with a trans-regional enemy in the sea and air is very sensitive."
He also described Iranian armed forces action on the British marines and sailors in 2007 as "wise".
Iran's IRGC troops detained 15 British sailors and marines who had been searching a trade vessel on 23 March, 2007, in what Britain insisted were Iraqi waters. Iran accused the British crew of trespassing on its territorial waters. The British troops were released after nearly two weeks.
"The action shows that political behavior of the Iranian armed forces now is more important than the (Iran-Iraq) war era and they are acting wisely in contact lines, for example in the Persian Gulf and Sea of Oman," Safavi said.
He said that the United States' new strategy for the Middle East and Iran would be difficult to perceive, and added, "We must wait for their action."
Also on the regional policy of US President Barack Obama's administration, Safavi said, "They may change their tactics, but they will not change their strategy."