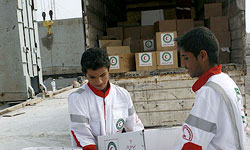 TEHRAN (FNA)- Iran delivered message of friendship and peace to the oppressed Gaza people by its humanitarian aids sent to the area via Lebanon.
Iran delivered the humanitarian aids to Lebanon after it was denied entry by Egypt, Head of Iranian Red Crescent Society team to Gaza Ahmad Navab said on Thursday.
Lebanon's Red Crescent Society has accepted the responsibility of delivering the cargo to the Palestinians.
Announcing that the Iranian ship's mission took 33 days because of the difficulties they faced , Navab added all the ship crews are in good health conditions.
The Iranian vessel first tried last month to reach the Palestinian coastal area through international waters, but Israeli naval forces intercepted the Iranian ship holding an estimated 2,000 tons of medical and food supplies for the crisis-stricken people in Gaza, 20 miles off the coast and warned the civilian ship to leave the area.
Later, the vessel, loaded with medicine, food and clothing, approached Gazan waters after a stop at an Egyptian port, and was informed that it would not be allowed to reach the Gazan shore due to the blockade imposed by Israel.