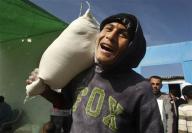 JERUSALEM/GAZA  – An Egyptian proposal to stabilize post-war Gaza calls for an extended truce between Israel and Hamas, a prisoner exchange and the initial opening of at least two of the enclave's border crossings, diplomats said.
Ahead of an Israeli election on Tuesday, negotiations in Cairo have grown increasingly intense and complex. Western diplomats briefed on the talks said it was unclear whether all of the details could be worked out.
Under the proposal, Israel would halt attacks in the Gaza Strip and Hamas would stop cross-border rocket fire for up to 18 months. That would take the place of a shaky January 18 truce that ended Israel's 22-day offensive in which more than 1,300 Palestinians were killed. Fourteen Israelis have died since December 27, when the fighting broke out.
In the second phase of the proposal, Israel would agree to swap Palestinian prisoners in its custody for Gilad Shalit, an Israeli soldier captured by Gaza militants in 2006. Palestinian officials have reported progress in those talks.
A deal to free Shalit could boost Foreign Minister Tzipi Livni's centrist Kadima party and Defense Minister Ehud Barak's left-wing Labour in a national election on Tuesday that rightist Likud leader Benjamin Netanyahu is now favored to win.
But the release of Hamas militants involved in attacks against Israelis could prove politically risky. Hamas has demanded 1,400 prisoners in exchange for Shalit, though diplomats said the final number may be closer to 1,000.
As a deal on the prisoners is implemented, Israel would expand the amount of goods entering the Gaza Strip through the Kerem Shalom crossing. It now regularly handles over 100 trucks a day but that number could grow to 250 or more, diplomats said.
A major sticking point in the talks has been Israel's insistence that certain materials be barred from entry because they could be used to make rockets, fortifications and explosives. These include certain types of steel piping and chemicals used in agriculture, Israeli defense officials said.
Hamas officials say they have demanded more details about what would be excluded from entering the impoverished enclave, which will require massive amounts of steel, cement and other commercial goods to rebuild after the war.
The Rafah border crossings between Gaza and Egypt would also reopen, with the presence of international monitors and border guards who would report to Western-backed Palestinian President Mahmoud Abbas, Hamas's rival.
The Islamist group, which beat Abbas's secular Fatah faction in a 2006 election and seized control of the Gaza Strip 18 months later, has been vague about the extent to which it would be willing to cede control of the Gaza side of the crossing to Abbas's security forces.
Diplomats said Rafah could also be opened to some commercial goods, though the terminal is not currently suited to handling large numbers of trucks.
In the third stage of the Egyptian proposal, Abbas's Fatah faction, which runs the larger West Bank, and Hamas would agree to try to negotiate a unity government of technocrats that would be in place until an election can be held.
Diplomats said they were skeptical an agreement could be reached between the rivals.
Israel currently allows some 200 truckloads of goods into the Gaza Strip each day, far short of the 500 that the European Union says are needed.
The private sector Palestine Trade Center estimates that Gaza's border crossings could handle more than 1,600 truckloads daily, but only if Israel fully reopens Karni, Gaza's largest passage for commercial goods.
Israeli defense officials said Karni will not function normally until Hamas agrees to fully cede control there, either to Abbas's forces or foreigners. That could hinge on reconciliation talks, diplomats said.