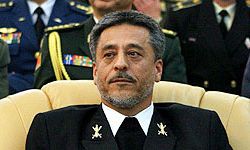 TEHRAN (FNA)- Iran's Navy Commander Rear Admiral Habibollah Sayyari Sunday announced his forces' combat readiness for accomplishing a full range of maritime missions.
"We are at such a level of readiness that we can accomplish any type of maritime mission and this honor and growth is among the important achievements of the (Iranian) Revolution," the General said.
Sayyari reiterated that the Iranian navy is now at such a level that it "can provide for all the country's needs as well as personnel needs to training programs in compliance with international training standards".
Comparing Iran's naval capabilities in the pre and post-revolution eras, the commander added, "As far as renovation is concerned, we were not at all capable of building any type of vessels before the revolution. Now, we have reached the point that we can supply Navy requirements."
"We had no knowledge of subsurface vessels, but we have now acquired this science and (our) attempts are underway for producing subsurface vessels and equipment," Sayyari went on saying.
"We are more advanced and ahead of other countries in (building) subsurface equipment, and others are seeking to use our experience. These are all the fruits of the revolution," the Iranian navy commander said.