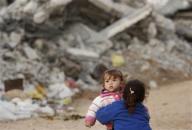 JABALYA CAMP, Gaza Strip  – Five-year-old Mohammed al-Najjar lets his mind wander as he puts crayon to paper in an effort to depict an Israeli air strike inside a refugee camp in the Gaza Strip.
"This is the plane and those are two missiles it fired. They hit a house and the house was damaged but was fine. The fridge caught fire," he says in matter-of-fact detail, sitting at a table with other children in Gaza's Jabalya camp.
He draws a girl who has survived the attack and places her outside the house, but there is also a boy.
"Khaled was killed," he says.
The scene, which Mohammed drew at the urging of his teacher and a mental health counselor who visited his classroom, is imaginary. His home in Jabalya was not damaged, but others nearby were.
Health workers say many children, including those who did not lose family members or their homes, are suffering post-war trauma. The Gaza Mental Health Programme is seeking them out in hospitals, schools and kindergartens.
Mohammed and his immediate family survived the 22-day Israeli air, land and sea assault launched on December 27 by Israel to try and stop militants from firing rockets into southern Israel towns. But his nearby neighbors were victims.
Inas Jouda, a mental health nurse involved in the programme, said many of the Gaza Strip's children have refused to return to their homes. Some have bad dreams or wet their beds, while others show aggressive behavior or little signs of life at all.
Drawing is a way for them to deal with the trauma and for workers to judge their mood.
"Those who draw flowers and trees are not necessarily without trauma. The nice drawings can reflect what they hope to see and hope to have," Jouda said.
The children also listen to music and dance to help them deal with the experience. Some of them have flashbacks.
Around 1,300 Palestinians were killed in the Israeli operation, including more than 300 children, Palestinian medical officials said.
VICTIMS OF WAR
Israelis have also suffered in the conflict. The latest phase began with a Palestinian uprising launched in 2000 as peace talks with Israel on a Palestinian state ran aground.
Some 8,000 rockets and mortar rounds were fired by militants at Israeli towns near Gaza since 2000, killing 18 people before the war.
Three more Israeli civilians were killed in the fighting. The trauma suffered by Israeli children was often cited by politicians as a justification for Israel's latest offensive.
In Jabalya, Nagham al-Askari, 5, revisits how she and her sister were wounded when Israeli forces targeted a passing motorcycle. "My sister Amira was wounded, and (doctors) removed part of her liver. I was wounded and my uncle bandaged my leg," Nagham said.
In Beit Lahyia, Ahmed Zayed, 9, cries as he recalls how Israeli bulldozers plowed up land owned by his family. A wall in his home collapsed when it was hit by an Israeli tank shell.
"Our land was like heaven, with all sorts of fruits growing. It used to be the source of living for seven families. Why did it have to be bulldozed? I'd rather have died than see this," he said after plucking up the courage to visit his damaged school.
His father said he led the family to a U.N.-run building waving a white flag. "My boy was shocked and I have been trying in vain to alleviate the shock. We're still living the reality and what we saw was beyond what a person can handle," he said.
Now Ahmed tries to look forward to happier times. "Every time I switch on the television I see funerals and bombardment. I hope to see cartoon movies," he says.