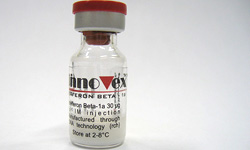 TEHRAN (FNA)- Iran introduced 4 new medicines for M.S and anemia treatment in a ceremony in the presence of Iranian Health Minister Kamran Baqeri Lankarani on Sunday.
The medicines include Interferon beta-1a supplied to the market under the trade mark of Resigen and produced by Sinagen firm. Sinagen had already manufactured another medicine for M.S patients named Cinnovex.
The new Iranian medicine, which was introduced to the domestic market on Sunday, is a counterpart for Rebif produced by foreign companies.
Interferon beta-1b is a part of combined medication for M.S patients and will be available in the Iranian market in the next 3 months.
Fingolimod was another medicine unveiled today on the occasion of the 30th anniversary of the victory of Islamic Revolution. The drug will enter the Iranian market later as it is still in the final stage of production.
The forth new medical product is the main and essential constituent of Erythropoietin beta used for treating anemia caused by kidney insufficiency and red blood cells destruction. The medicine is due to enter the Iranian market later.