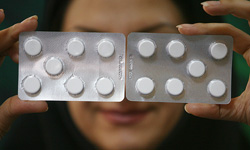 TEHRAN (FNA)- Iran on Sunday started mass production of a new medication for asthmatic patients called Melocast.
Melocast is an anti-inflammatory medicine controlling Leukortiene sensors inside the body. Leukortiene is a cause of different problems in allergies and allergic asthma.
Melocast is used for prevention and treatment of chronic asthma, allergic inflammation of nose (seasonal allergic rhinitis or hay fever), lasting allergic inflammation and also for asthma caused by exercising.
The medicine, which has an FDA (US Food and Drug Administration) approval, is also a medication for Aspirin-caused asthma, chronic rashes (urticaria) and allergic epidermic inflammation (epidermal atopy).
The drug is a good substitute medication for the Corton-based drugs for asthma and light allergic inflammation of nose and has less side effects compared with similar drugs.
About 10% of the Iranian population suffers from asthma, meaning that the medication can help improve the life quality of 700,000 people in Iran.