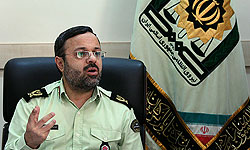 TEHRAN (FNA)- Iran seized more than 500 tons of drugs from smugglers, Commander of Iran's anti-drug squad General Hamid Reza Hossein-Abadi said in Turkey yesterday.
The drugs which were seized in the past 10 months were due to be transited to Europe, Hossein-Abadi told reporters at his joint news conference with Head of the Turkish Police anti-drug division Ahmet Pek, in the port city of Istanbul.
Elsewhere, he criticized the North Atlantic Treaty Organization (NATO) forces for their unsuccessful operations in Afghanistan which led to the increase of drug production and cultivation by the mafias.
Iran lies at the crossroads of drug smuggling routes from Afghanistan to the West and leads international efforts in fighting illicit drug trafficking, according to the United Nations Office on Drugs and Crime.
In November, Iran's Drug Control Headquarters (DCH) announced that the country would seal all its borders within two years to control drugs smuggling.
Each year, the government spends hundreds of millions of dollars erecting barriers along the borders with Pakistan and Afghanistan and pumping resources into checkpoints. Officials said the battle against drug addiction and trafficking costs Iran US$1 billion a year.
These days, 93 percent of the world's opium is produced in the neighboring Afghanistan, 60 per cent of which is destined for the EU, and specially US, markets, according to the UNODC.
Iran has always complained about the EU and other international bodies' lack of serious cooperation with Iran in the campaign against drug trafficking from Afghanistan.