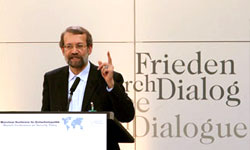 TEHRAN (FNA)- Iranian Parliament Speaker Ali Larijani appreciated Iranian expatriates for their great skills and their constant support for the Islamic Republic.
Some 3 to 6 million Iranians live in 32 foreign countries of which 1 million Iranian nationals reside in the US.
Larijani, who is in Germany to attend the 45th Munich Security Conference, told a gathering of Iranians in Munich on Saturday night that the efforts made by certain western countries to prevent Iran from making scientific progress have ended in failure.
Iran has been able to resist the sanctions imposed against it by certain western countries and gained access to the latest developments and achievements in scientific fields, he added.
Referring to the baseless claims that US and some European countries made against Iran's scientific achievements, the Iranian top lawmaker said that Iran is pursuing peaceful policies in the region and the western countries' claims merely serve as an excuse for justifying their opposition.