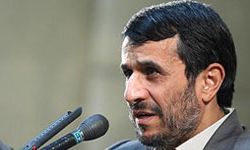 TEHRAN (FNA)- Iranian President Mahmoud Ahmadinejad underlined the necessity and importance of punishing aggressors in a bid to prevent future crimes.
"If aggressors of Iraq and Lebanon had been tried, the Gaza disaster would not have happened," Ahmadinejad said in a meeting here on Monday with Iranian ambassadors and heads of representative offices abroad.
"Justice, advancement and idealism are the rights of all nations. No power has the right to monopolize advancement," the Iranian president went on saying.
Ahmadinejad called the selfish behavior of some states a major cause of current insecurities in the world and added, "Lasting peace, security and friendship will dominate (the world) when everyone remain committed to principles."
The president further voiced Iran's readiness to transfer its experiences and achievements to other nations in an effort to expand constructive relations.
Iranian president also stressed that the use of force in the contemporary world would bear no fruit, and viewed threatening, bullying and unfair use of military and economic means as useless and "impractical".
"The era of the force literature has ended and the era of logic and thinking has started," he added.
Ahmadinejad also called dismantlement and annihilation of all nuclear weapons, stopping arms race and strong will of the international community necessary for durable peace and friendship in the world.