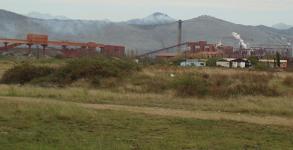 Montenegro's government has offered a 20 million euro loan to help the owner of the recently privatised aluminum smelter KAP to keep production during the global financial crisis. said Branko Vujovic, head of the Agency for Restructure of the Economy.
Branko Vujovic, head of Montenegro's Agency for Economic Restructuring and Foreign Investment told Serbia's Beta news agency that Montenegro was negotiating with KAP's new owner, the Central European Aluminum Company, about the possible loan.
In return, the government asked CEAC to guarantee further production, and deposit its shares in a bauxite mine in Montenegrin town of Niksic as well as the shares of the owner Oleg Deripaska's other company Rusal as guarantees that the loan will be paid back.
KAP would need an estimated eight million euro to keep production going, while 12 million would be used for debt payments to Montenegro's power and oil companies among others.
If the owners rejects the government's offer, KAP might be forced to stop production, Montenegrin media reported.