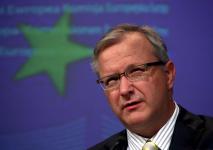 The European Commission would not like to see Serbia apply for EU candidate status before the key Stabilisation and Association Agreement is unblocked and put forward for ratification.
Several Serbian politicians have said Belgrade might put forward the application for EU candidate status during the first half of this year. Some Serbian media reported over the weekend that the Czech Presidency would accept it even if by that time the SAA remained "frozen" due to Belgrade's failure to arrest two war crimes fugitives still at large.
The Netherlands insist that especially genocide suspect Ratko Mladic must be arrested for Serbia to be allowed to progress towards membership.
Enlargement commissioner Olli Rehn said he would not advise Serbia to apply for EU candidate status before all previous steps have been fulfilled.
"A convincing track record of implementation of the SAA agreement as well as progress in EU-related reforms are essential before we move forward in the next step of European processes, including candidate status", Rehn said.
Serbian interior minister Ivica Dacic who met Rehn on Monday stressed his government's commitment to European integration, saying it was one of Belgrade's key priorities.
Rehn stressed that Serbia has plenty of potential to advance on its path towards EU membership and "the Commission is fully committed to accompany Serbia to this path".
Serbia signed the SAA with European Union last April, but the EU is holding off on ratification until Serbia achieves full cooperation win the Hague tribunal by arresting the fugitives. Serbia insists that it is doing its outmost to fulfil the condition, but Brussels is waiting for the green light from Hague chief prosecutor Serge Brammertz.
"We support chief prosecutor Serge Brammertz in his work and valuable task to complete the work of the ICTY and we rely on his assessment as regards the cooperation of the countries of the Western Balkans," Rehn said.
Speaking about the visa liberalization process, one of the more tangible benefits of closer EU ties for ordinary people in the Balkans, Rehn confirmed that the verification missions would finish their work by April and after their assessment the Commission was ready to recommend to EU member states that they abolish the visa requirement for Serbian citizens. However, the process is long as it is up to EU interior ministers to make the final decision, he said.
Serbian Interior Minister Ivica Dacic conceded that much work needs to be done but stressed that in case Serbia finishes its part of the task, Belgrade expects this year positive signals from Brussels concerning the visa regime.