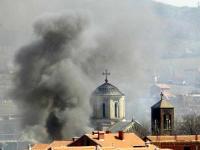 Both Serbia and Kosovo ignored an invitation by the United Nations mission in Kosovo to hold talks on the 'technical issue' of cultural heritage, with negotiations supposed to be held today in Pristina.
Rasel Giki, UNMIK spokesperson confirmed that the UN mission invited both Belgrade and Pristina to the round table, but had not received any response from either.
Part of the Serbian Orthodox heritage in Kosovo, the province Serbs consider the spiritual heartland of their nation, was destroyed or damaged by Albanian rioters in March 2004. To maintain its claim, both politically and in terms of property, the Serbian Orthodox Church has defiantly stayed on after the declaration of independence, with priests hunkering down in churches and monasteries patrolled by NATO peacekeepers.
A commission for the preservation of Serb monuments and churches has created 'protective zones' around Kosovo, a move supported by government officials in Pristina, but boycotted by Belgrade. 
Commenting on the UNMIK invitation, Kosovo's Ministry of Culture, Youth, and Sport said Pristina knew what it had to do and saw no need for the agenda to double by including Belgrade in the arrangements.
"The Ministry of Culture, Youth, and Sport will not take part in Tuesday's meeting, because of the fact that a duplication of meetings would occur, which we have currently initiated. We have created a forum for cultural heritage, where the same issues will be discussed" said Arberore Riza, the Minister's media advisor.
Kosovo government spokesperson Memli Krasniqi said that there was no need for the government to further discuss an issue already covered in the plan of UN envoy Martti Ahtisaari's package, which served as a blueprint for Kosovo's declaration of independence from Serbia in February of last year.