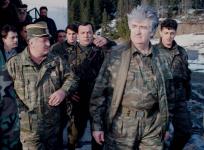 Bosnia's EU peacekeeping force, supported by NATO and local police, carried out two raids on Tuesday morning on homes belonging to relatives of Bosnian Serb wartime commander Ratko Mladic, the most high-profile war crimes suspect from the 1992-95 war still on the run.
The operation was carried out in the suburbs of eastern Sarajevo, in the Serb-dominated Bosnian entity of Republika Srpska, where EUFOR troops raided homes of Milica Avram, Mladic's sister, and Radinka Mladic, his sister-in law, EUFOR said in a statement.
The raids were a part of a broader, regional operation that over the last few years has involved searches of numerous locations and people believed to be helping Mladic evade trial, the statement said.
Mladic is indicted by the International War Crimes Tribunal for former Yugoslavia, ICTY, on two counts of genocide for the 43-month siege of Sarajevo and the massacre of some 8,000 Bosniak (Bosnian Muslim) men and boys during the fall of the eastern Bosniak enclave of Srebrenica in July 1995. He is also charged with a dozen counts of other crimes against humanity for his actions through the war.
The Hague tribunal has said they believe Mladic to have spent most of his past years in Serbia, protected by hardliners.
Besides Mladic, only one other war crimes suspect indicted by ICTY is still at large 13 years after the end of the wars in Bosnia and Croatia.
Goran Hadzic was a central figure in the self-proclaimed Serb republic of Krajina from 1992 to 1993. In 2004, he was indicted by the ICTY on 14 counts of war crimes and crimes against humanity for his involvement in atrocities committed by Serb troops in Croatia during the 1991-95 war.
Last summer Serbia arrested and extradited the other most-wanted fugitive, Bosnian Serb wartime leader Radovan Karadzic, who was hiding in Belgrade disguised as an alternative healer.
EUFOR stressed there is a reward of up to $5 million for any information that can lead to Mladic's arrest. A separate reward offered by Serbian authorities runs to 1 million euros.