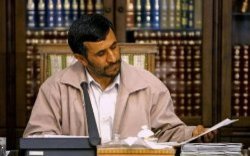 Iran's President Mahmoud Ahmadinejad appreciated Iranian nation's massive turnout in the rallies on February 10 to mark the 30th victory anniversary of the Islamic Revolution in the country.
He said the million-strong and vigilant presence of Iranians in the rallies was in fact another "birth" for the nation.
He likened the Islamic Revolution to a huge river that was fed with such sources as divine revelations and said the presence of people in the anniversary rallies further strengthened the revolution.
IRNA