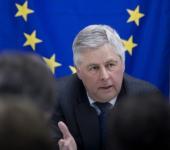 Peter Feith, the head of the International Civilian Office in Kosovo and European Union Special Representative, criticized Kosovo's institutions for lagging behind in key reforms needed to guarantee progress in the new country.
Feith spoke during a debate in the European Parliaments' foreign affairs committee on the occasion of the upcoming first anniversary of Kosovo's declaration of independence from Serbia.
"The Assembly is still falling short of fulfilling a key role in democracy: that of providing a main form for political debate and parliamentary oversight and scrutiny", Feith said. "Many decisions are still taken by the government without significant involvement of the assembly; much of the political intercourse is still channeled through the press and potentially in the streets".
He said that in past year the situation on the ground was quiet but warned that ethnic violence between Serbs and Albanians in Mitrovica as well as the reaction of Pristina to the UN's six-point plan demonstrate "the fragility of the situation".
Furthermore, he said he was worried about the reaction of Kosovo Protection Corps in the process of establishing Kosovo's Security Force, a reaction that according to Feith can cause further tensions.
Feith said the EU should create a channel of communication between Pristina and Belgrade, as a constructive attitude by Belgrade towards the EULEX mission is of crucial importance. Some deputies of the European Parliament went further and called on the EU to condition Serbia's process towards EU membership with the country's cooperation with the EU mission.
"Our message should be clear: yes you are welcome in EU but you should cooperate with EULEX", said Dutch deputy Joost Langendijks. "We cannot open the road to Brussels if Belgrade is making life difficult on our people on the ground".