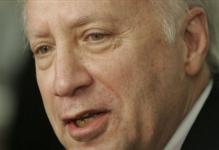 Matthew Nimetz, the United Nations mediator in the Athens- Skopje "name" talks, did not table a new proposal at a Wednesday meeting with negotiators from the two countries, but asked both sides to strive for a positive atmosphere.
Nimetz agreed with Macedonian and Greek representatives, Zoran Jolevski and Ademantios Vassilakis, that the talks in the near 18-year dispute will resume, Macedonia's MIA news agency reported.
"I hope that we will focus on more concrete talks regarding specific ideas at a certain point of time, in order to see whether we can come to a compromise," Nimetz told Voice of America after the meeting as reported by MIA. He stressed that this could be achieved only through good will and serious intentions.
The negotiators agreed on meeting again at a date to be confirmed later. Nimetz will inform them on the future steps, taking into account that elections are to be held in both countries – presidential and local in Macedonia, and European Parliament elections in Greece. Macedonia's 'name' is a highly emotive issue in both countries, having gone from an argument about the toponymy of Greece's northern Macedonia province and Athens' fears of irredentism, into a full-blown scramble over ancient history and genetics.
"We did not open the latest Nimetz proposal and did not debate on essential issues, but on the further developments in the negotiating process," Jolevski said. "Discussions also tackled the creation of favorable atmosphere between the two countries for the purpose of facilitating the solution."
The last formal meeting between Nimetz and the countries' negotiators took place on October 8 in New York, when he tabled a "set of ideas" that both Skopje and Athens said are unacceptable. The proposal was never made public officially, but media reports said it was Republic of North Macedonia or a variation thereof.
Relations between the two neighbors reached a low recently since last April, when Athens blocked Skopje's NATO accession pending a solution to the row, then threatened to do the same in the EU, while in November Macedonia took Greece to the International Court of Justice in Hague over the NATO blockade.
Asked how would the recent change in the US administration reflect on the negotiating process, Nimetz said he cannot speak for the USA. "I think that the US administration will present its views to both parties in due time," he said.
The previous US President, George W. Bush, was seen as a supporter of Macedonia's NATO entry, and he recognized Macedonia's under its chosen name as the first act of his second term in office. Barack Obama has not made any specific statement yet on the issue