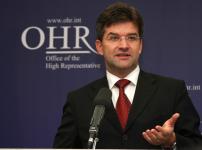 Bosnia's outgoing top envoy, High Representative Miroslav Lajcak, called for the closure of his former office and for a new western approach to Bosnia in his first press conference as new Slovak Foreign Minister on Tuesday.
Lajcak still officially holds dual post of the head of the Office of the High Representative, OHR and Special EU Representative for Bosnia, while EU leaders deliberate on his replacement (Read more: EU Starts Deliberations On New Bosnia Envoy )
Speaking at a press conference in Bratislava, Lajcak indicated that just finding a new top envoy for Bosnia was not enough, and called on the EU to decide which approach it wants to take in Bosnia. 
Lajcak told journalists that if the international community wants to maintain the OHR in Bosnia, it "should have courage" to use OHR's broad governing powers, but if "it lacks that courage" it should shut down the OHR and hand over the responsibility for Bosnia to the EU. Lajcak also said that the dual – OHR and Special EU Representative – approach, which has been in place for more than two years, is self-contradictory.
"If somebody is your partner, then you cannot be his protectors. If somebody is not able to manage himself, then let's forget the European integration," Lajcak said. "As long as there is a High representative in Bosnia, the European idea will be on a side track and that country will not effectively move towards the EU."
Lajcak's comments underline growing awareness among top western officials that the international approach to Bosnia has hit a dead end. Last November, top EU officials – Enlargement and Foreign Affairs Commissioners Olli Rehn and Javier Solana –put together a paper calling for a radically new European strategy for Bosnia. (Read more: Europe Ponders New Strategy for Ailing Bosnia)
Yet noone has come up with something concrete. Offered the Slovakia post and disgruntled with the lack of a cohesive international approach to Bosnia, Lajcak suddenly announced his early departure, throwing the international community in Bosnia in new confusion and chaos. (Read more: Envoy's Early Departure Leaves Bosnia in Confusion)
In an interview for Czech state television on Tuesday Lajcak was also highly critical of local politicians in Bosnia.
"In Bosnia they believe that politics is a continuation of the war, only with different means," he said. "The internal battle has lasted for 14 years, there is a great lack of trust and every initiative is blocked."
Yet despite the confusion among the international community and the lack of maturity among local leaders, Lajcak said he was not pessimistic.
"It is just a question of how much time will be wasted" before Bosnia's future will materialize, Lajcak concluded.