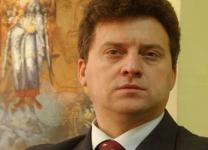 A comment by Macedonia presidential frontrunner Georgi Ivanov that homosexuals were not discriminated against but just being paranoid has attracted harsh criticism from his opponents, political analysts and gay rights campaigners.
"Our system discriminates against no one. The homosexuals stigmatize themselves and think they are being discriminated", the candidate of the main ruling party, the conservative VMRO DPMNE told Spic daily on Tuesday.
These claims are scandalous and represent a "polished attitude of homophobia," said Slavco Dimitrov from the NGO Coalition for Promotion and Protection of Marginalized Groups Health and Sexual Rights.
The presidential candidate of the opposition Liberal Democrats, Nano Ruzin, said Ivanov's comment showed a typically Balkan way of thinking.
"We need to work on informing the public and rooting out the taboos", he told the daily on Wednesday.
In his latest newspaper column, the political analyst and columnist Zarko Trajanovski suggested to Ivanov, a professor at the law faculty in Skopje, that he should take sexual education classes.
Homosexuality is a taboo subject across the largely conservative and patriarchal societies of the Balkans, where many people view it as a deviant lifestyle choice or at best as a mental illness. Very few gay Macedonians are openly 'out', and activists have spoken of discrimination, threats of violence, and even suggestions at a cure with medicines.