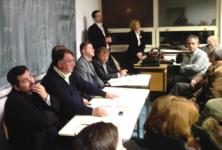 A recent decision by local authorities to separate ethnic Macedonian and ethnic Albanian high school students in different shifts has sparked a debate about the ethnic segregation of young people in a country where ethnic relations are generally calm, but still far from cordial.
Earlier this month, Macedonian and Albanian students from the "Niko Nestor" high school in the south western town of Struga were involved in fights that left three teens injured. Local authorities decided they needed to keep them apart, and the new separate shifts started on Tuesday.
The move sparked a public debate about the role of education, with some commentators saying this would only widen the gulf between Macedonians and Albanians. A 2001 conflict between Macedonian forces and ethnic Albanian insurgents ended with a peace treaty granting the 25-percent Albanian minority greater rights and a key role in politics, but relations between the two communities are still tainted by mistrust.
"It is better for one minister to step down than to see victims in Struga", Education Minister Pero Stojanovski told reporters after a meeting with local authorities, parents and teachers.
Publicly, officials say they want students to mix and socialise as that is the best way to develop tolerant and prejudice-free citizens, but the situation on the ground paints a different picture.
In many areas where Albanians and Macedonians leave together, including the towns of Gostivar, Kumanovo and Debar, the ethnic segregation is schools is almost complete, local Dnevnik daily says. Albanian and Macedonian students study together only in the towns of Tetovo, where Macedonian pupils are very few, and in Kicevo.
Sociologist Petar Atanasov told the paper that "this could only be described as a negative process, having in mind that the society publicly proclaims and aims for integration in all areas. Each municipality has its own specific problems that cause the segregation but it is important that they be recognized first".
After several years of calm, difference in political priorities have again rocked relations between the two communities. Ethnic Albanians do not care for Macedonia's 'name' dispute with Greece and just want to join the European Union and NATO as soon as possible, while Macedonians say it is not worth changing their name and sacrificing their identity just to please Greece enough to drop its veto and let Macedonia join either.