KABUL (Reuters) – U.S. President Barack Obama's new envoy to Afghanistan and Pakistan met key ministers in the Afghan capital on Friday, two days after triple Taliban attacks in the city demonstrated just how much security is deteriorating.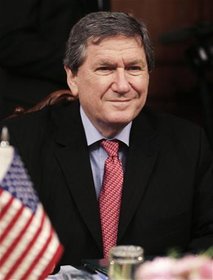 Wednesday's attacks on government buildings show how hard it is for the Afghan government and its Western backers to ensure security, even with dozens of police checkpoints in Kabul and armed guards at the entrance of every state office.
Holbrooke met with the Afghan ministers of defense and the interior, the head of the national intelligence agency and President Hamid Karzai's security adviser at the heavily guarded U.S. embassy, an Afghan government official said.
He is due to meet Karzai later in the day, said the official, who declined to be named.
Holbrooke, who arrived in Kabul after four days in Pakistan, has so far been tight-lipped during his first trip to the region in his new role as Obama's point man on the conflict that has become a U.S. foreign policy priority.
Famed for negotiating the 1995 Dayton accord that ended the war in Bosnia, Holbrooke is a relative newcomer to South Asian politics. Before two private visits since 2006, Holbrooke had only traveled to Afghanistan once, as a backpacker in 1971.
Ahead of the 10-day trip that will end in India, Holbrooke admitted Afghanistan would be a "tougher challenge than Iraq."
NO PURELY MILITARY SOLUTION
Top of the list of problems is finding ways to stem the Taliban insurgency that has forced a stalemate on international forces in the south and spread to the outskirts of the capital.
The insurgent presence so close to Kabul has spilled over into a crime-wave in the city, analysts say, further undermining public faith in authorities most already view as corrupt.
Afghan security forces have set up ever more checkpoints inside Kabul and more roads near Western embassies are blocked with high concrete barriers snarling traffic elsewhere, but still the Taliban bombers manage to get through.
Eight Taliban gunmen, each wired with a suicide vest, penetrated that cordon on Wednesday and simultaneously assaulted three government buildings in what analysts said appeared to be a mimic of the Mumbai attacks of November.
Police shot dead three of the attackers before they could enter the offices and Afghan security forces swiftly stormed the buildings and killed the rest, blunting the effect of what could have turned into a protracted hostage standoff.
Nevertheless, 26 people were killed in the attack.
"Kabul is a free and open city so it's really very difficult to defend every aspect … People wander freely with these little suicide vests disguised under their clothing and they're hard to detect," said U.S. forces spokesman Colonel Greg Julian.
While Washington is considering whether to almost double its troops in Afghanistan to some 60,000, the U.S. government recognizes there is no purely military solution to the conflict and more must be done to bring development and effective government to a country scarred by nearly 30 years of war.
Complicating that task is the diplomatic conundrum of trying to ease the rivalry between Pakistan and India which helps fuel the conflict in Afghanistan, accommodate regional powers Iran and Russia, and maintain an alliance of more than 40 nations