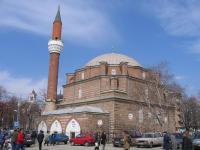 A Bosnian court has found an Imam (local Islamic priest) guilty of sexually abusing an underage girl and sentenced him to 18 months in prison, in a case that shocked Bosnia and stirred up tensions between local media organizations and the country's influential Islamic Community.
The family of the girl pressed charges against the Imam last year, accusing him of sexually molesting their underage daughter during religion classes.
"As Allah is my witness, I did not commit this crime," said Imam Resad Omerhodzic, who plans to appeal the ruling as his defense team said they did not have enough time to collect all necessary evidence.
Dusko Tomic, a lawyer representing the girl, said the family was satisfied with the verdict.
The lawsuit, Bosnia's first public case of alleged sexual abuse by a religious figure in recent history, was widely reported by local media.
Some TV stations, newspaper and magazines went further and investigated the case, reporting on a further four cases of girls allegedly were abused by the same Imam in the past four years. They carried disturbing testimony from some of these girls and other witnesses, including even one of the Imam's best friends, who said the Imam had admitted his wrongdoing to him.
The reports triggered strong criticism from Bosnia's Islamic Community. Last Friday, a three-person TV crew from one of the most popular local programs, Federal Television's "60 Minutes", was assaulted by what they said was a group of conservative Muslims. Two days later, a local villager due to testify for the prosecution in the trial, received threats.
Bosnia's Islamic Community refused to comment on the trial before the verdict, and Grand Mufti Mustafa Ceric, the leader of the Islamic Community, in one his sermons reportedly defended the conservative Muslim group and their actions. Outraged at the lack of any condemnation of the beating, FTV in its evening bulletin said that Ceric "is protecting pedophiles in the Islamic Community as well as hostile Wahabbis, and is openly calling for the lynch of unsuitable journalists."
With increased tensions between villagers, the Islamic community and media, some analysts say that the sex abuse case had become something much bigger, reopening old debates about religious radicalization and the role of religious communities and their leaders in post-war Bosnia and Herzegovina.
The village of Gluha Bukovica had previously gained notoriety from being mentioned in several trials of the International War Crimes Tribunal for former Yugoslavia, ICTY, against Bosniak military commanders. During the war, the village was a base for groups of foreign Islamic fighters who came to Bosnia during the war to fight alongside the Bosniak-dominated Bosnian Army.