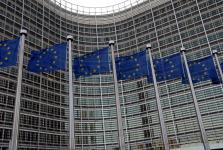 Bosnia's Serb-dominated entity of Republika Srpska opened a representative office in Brussels on Thursday, triggering a new round of criticism from Bosniak (Bosnian Muslim) officials who see this as yet another proof of its distancing itself from Bosnia and Herzegovina.
All top Republika Srpska officials attended the official opening ceremony of the office, saying it would advance their economic, political and cultural relations with the EU.
Republika Srpska president Rajko Kuzmanovic told reporters that this move in no way jeopardizes Republika Srpska place within Bosnia and Herzegovina. He added that Republika Srpska just used its constitutional right "to open up a representation office in the center of developments with European relevance."
Bosniak leaders have slammed this move as unconstitutional, illegal and with "dangerous intentions." The dispute reflects heightened ethnic relations and tensions among local leaders, which have followed Bosnia's worsening political crisis over the past three years.
The crisis has been aided, if not triggered, by Republika Srpska Premier Milorad Dodik who repeatedly said that Bosnian Serbs maintain the right for self-determination and even possible separation. This notion has been strongly condemned by other local leaders and international officials who rejected any such possibility.
"We consider this act to be against the Constitution of Bosnia and Herzegovina," said Amir Zukic, general secretary of the ruling Bosniak Party of Democratic Action.
In late 2008, the Bosniak member of the Bosnian presidency, Haris Silajdzic, already demanded from country's Constitutional Court to halt Republika Srpska's preparations for the opening of the Brussels office. The Constitutional Court rebuffed his plea.
Beriz Belkic, a senior leader of the second-strongest Bosniak Party for Bosnia and Herzegovina, has admitted that regions are allowed to open representation offices abroad, but stressed that this case has "completely different implications."
Sarajevo-based media on Friday revelled over the fact that no EU officials appeared at the opening ceremony, as well as over reports that EU foreign affairs commissioner, Javier Solana, refused Dodik's persistent requests for a meeting, citing his busy schedule.
Together with the Brussels office, Republika Srpska already has four other representation offices – in Belgrade, Jerusalem, Moscow and Stuttgart. The government has earmarked 1.3 million euros in 2009 to finance their operations, and also plans to open two other offices this year, in Washington DC and Zagreb.