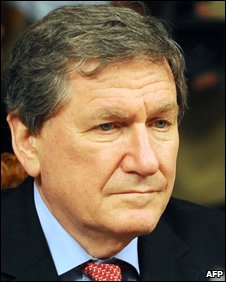 The new US envoy to Afghanistan and Pakistan, Richard Holbrooke, has arrived in Kabul on what is being described as a fact-finding mission.
He is to meet senior Afghan officials to discuss issues including the worsening security situation.
On Wednesday, co-ordinated Taleban attacks in the Afghan capital killed at least 27 people.
President Obama has repeatedly said that Afghanistan's problems cannot be addressed in isolation.
Some analysts have suggested that Wednesday's attacks may have been an attempt by the Taleban to overshadow Mr Holbrooke's visit.
Mr Holbrooke's trip to Afghanistan follows a four-day visit to neighbouring Pakistan.
Reports say that in talks with Pakistani leaders he stressed Washington's financial commitments to the country but underlined the need to purge militant sanctuaries in the north-west region, along the Afghan border.
Politician killed
Mr Holbrooke also visited the North West Frontier Province to see the security situation there at first hand.
While in Peshawar, a local politician was killed by a roadside bomb.
Before leaving for Afghanistan, Mr Holbrooke met Nawaz Sharif, former prime minister and leader of Pakistan's main opposition party.
After their meeting, Mr Sharif told reporters that Mr Holbrooke said he understood many Pakistanis' feelings about US drone attacks inside the country.
The BBC's Syed Shoaib Hasan, in Islamabad, says Mr Holbrooke is being seen as a key player in a renewed effort to reverse the deteriorating situation on both sides of the Pakistan-Afghanistan border.
Mr Holbrooke has said he is in the region to "listen and learn", before reporting back to President Obama and US Secretary of State Hillary Clinton.
Before his trip the envoy called the situation in Pakistan "dire".