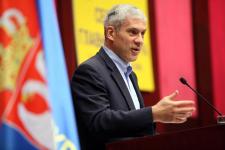 As Kosovo's Albanian majority prepares to celebrate one year from its declaration of independence from Serbia on February 17, Serbia's President Boris Tadic said Kosovo was not a state, and Serbia would never see it as anything but its southern province.
"Serbia will never recognize Kosovo's independence and, respecting international law, own legitimate interests, her integrity in Kosovo, will defend in the legal arena, in front of the International Court of Justice," Tadic said in during a Serbian Army exercise in Novi Sad.
February 17 "is only a date when an illegal act was made as far as Serbia's concerned, when Pristina illegally declared Kosovo to be a so-called state", Tadic said.
"A year later, it is clear to all that Kosovo is no state. To our fellow citizens in Kosovo, we are sending a message that their state is taking care of them and their interests."
Tadic said "Serbia is not a threat to anyone, but a partner and friend, a pillar of regional stability and security, and a democratic European country."
"Serbia is defending her interests solely by peaceful means and that is a policy we will pursue in the future as well," he concluded, repeating that Serbia's strategic goal was membership in the European Union
Kosovo's secession has been accepted by 54 mainly Western states, including all but five EU members.
Speaking at the weekend, Serbian Foreign Minister Vuk Jeremic said the anniversary was of "no importance" to Belgrade, only marking when Kosovo "institutions attempted to break off a part of our sovereign territory."
"I am convinced that, in the near future, nobody will remember that date," Jeremic told a media conference.