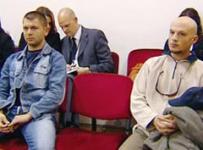 A Macedonian court has sentenced Besim Nesimi and Ramadan Imeri, former special unit policemen, to jail terms of 18 months and 12 months respectively for the brutal 2007 beating up of a cameraman of the local Alsat M TV.
In September 2007, the two beat up the cameraman Igor Ljubovcevski who was filming them while they checked vehicles at a road toll near capital Skopje. The cameraman enraged the policemen by refusing to hand over the recorded material and ended up in hospital with two broken ribs.
The incident happened amid rising tensions in the country over a legislators brawl in the parliament that happened few days before when one journalist also received punches. The tensions spilled outside the parliament and the police clashed with the gathered crowd.
During the beating up of Ljubovcevski police was bracing for a crisis as the local population from a nearby village gathered after reports that one local legislator, suspected for involvement in the parliament brawl, had been being stopped and searched by the officers.
The whole episode sparked harsh criticism from the West about Macedonia's democratic culture.