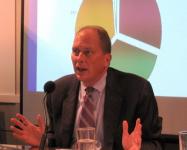 Macedonians are three times more concerned about the local economy in 2009 amid global crisis than in the same period last year, shows the latest opinion poll done by the International Republican Institute, IRI.
There is a tendency of growing pessimism related to the economic developments, IRI Regional Director for Europe Lindsay Lloyd told the Voice of America's Macedonian language p rogram this weekend.
This should additionally stimulate the government to come forward with a powerful plan for creating new jobs, Lloyd said. Macedonia currently has 33 percent of unemployment rate.
Despite the economic turbulence, the ruling conservative VMRO DPMNE party still enjoys solid support before the March 22 presidential and local election, Lloyd said. People's support for Macedonia's accession in to NATO and EU is also still holding high, the results show, with 90 percent of people saying yes to these objectives.
Lloyd stressed that the forthcoming elections will be key for Macedonia on its path to EU and NATO membership.
"The international community will carefully monitor the elections in March, as several election cycles in Macedonia have been criticized. High voter turnout is important, which also refers to the efforts of ruling and opposition parties and NGOs to provide for transparent, just and peaceful election process", Lloyd said.
IRI is a US federal budget-funded institution involved with national political parties around the world. Its main goal is spreading democratic ideals in foreign countries trough surveys, cooperation and political education. IRI's board of directors is chaired by the US Republican Senator John McCain.