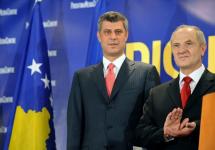 Kosovo's first year of independence has been successful, Kosovo's Prime Minister, Hashim Thaci said on the eve of the first anniversary of the secession from Serbia, adding that Kosovo will in the end be a full member of the European Union and NATO.
Kosovo declared independende on February 17, 2008 after nine years under international administration. Serbia has vowed to never accept the breakaway and is blocking its entry into international bodies such as the United Nations.
"Kosovo will become a member of NATO, the European Union and the United Nations, and we will be recognized by the entire world," Thaci said, showing optimism that eventually all European Union countries will recognize Kosovo, including the five currently holding out.
"It's not the number of recognitions but the value they represent," he told the Associated Press, noting there was a lack of cohesion and unity in the EU's foreign policy toward Kosovo.
Thaci also accused the Serbian government of undermining Kosovo's sovereignty and "sticking to the mentality of Slobodan Milosevic," the late Serbian strongman who sent troops into Kosovo to crush a 1998-99 ethnic Albanian rebellion.