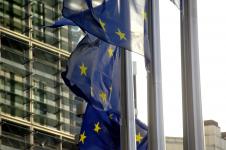 Croatia has made major progress in its EU membership talks which could enter their final stage this year, a European Commission official said in Brussels on Tuesday, not ruling out that some work might remain for 2010.
If Croatia does everything it is expected to do, there is a possibility that the talks will reach their final stage in 2009. This does not mean that we promise that everything will be completed in 2009, it is very likely that some work will remain to be done in early 2010, said Henrik Bendixen, an official at the Enlargement Directorate-General in charge of Croatia.
The EC official made the statement while explaining the meaning of the EC's indicative and conditional road map for the completion of Croatia's accession talks by the end of the year.
Bendixen was taking part in a preparatory meeting of European Parliament representatives who are members of the EU-Croatia Joint Parliamentary Committee.
The next meeting of the Joint Parliamentary Committee will be held in Zagreb on February 23-24.
Bendixen said that he did not see any problems in Croatia-EU talks that could not be settled by the end of this year, but noted that the EC had made no promises about the date for the completion of the talks and that it did not envisage any lowering of the criteria just so that deadlines could be met.
He said that Croatia had made great progress in the chapters Environment, Energy, Agriculture, Transport Policy, and Food Safety.
The most difficult chapters in which Croatia is expected to do more are Competition Policy, and Judiciary and Fundamental Rights, he said. The only remaining problem in the Competition Policy chapter is the shipbuilding industry.
Commenting on the negotiating chapter Judiciary and Fundamental Rights, Bendixen said the EC could not confirm at present that Croatia was fully cooperating with the Hague war crimes tribunal, adding that he hoped the issue of the tribunal's prosecution having access to some documents would be solved soon.
He noted that the right steps were taken in the reform of the judiciary and that they were expected to help Croatia have a more efficient court system and professional qualified judges.
He commended efforts by the Office for the Suppression of Corruption and Organised Crime, USKOK in fighting corruption and organised crime, adding that those efforts should be intensified.
Bendixen expressed regret at the fact that Slovenia was blocking a number of Croatia's negotiating chapters, noting that bilateral issues concerning the Croatian-Slovene border did not belong in accession talks, but should be settled through bilateral talks, international arbitration or before an international court of law.