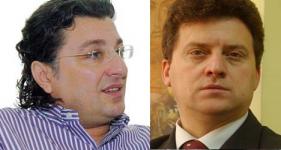 Macedonia's election commission on Wednesday determined the order of presidential candidates on the March 22 ballot by drawing lots, while the candidates were already engaging in a harsh battle of words.
New Democracy candidate Imer Selmani heads the list, followed by Miruse Hoxha from the opposition Democratic Party of Albanians, Nano Ruzin from the Liberal Democrats, Gjorgi Ivanov from the main ruling VMRO-DPMNE party, the independent candidate Ljube Boskoski, and Agron Buxhaku from the ruling Democratic Union for Integration, DUI.
Ljubomir Frckoski, the candidate of the main opposition party, the Social Democrats is last on the list.
Although the campaign officially kicks off in March, the candidates have already traded barbs over several issues with personal attacks and insults.
The frontrunner, Ivanov yesterday rebuffed Frckoski's claims that the government is leading the country into isolation by sparking nationalism and refusing to truly solve the ongoing name row between Athens and Skopje that is blocking Macedonia's Euro-Atlantic integration.
"Maybe there is a mental isolation is someone's head", Ivanov told reporters
Frckoski had previously argued that Macedonia should follow the recent recommendations of the International Crisis Group regarding the ways of solving the long running row. The ICG suggested several steps of good will from both Athens and Skopje and guarantees for the Macedonian identity before reaching a final agreement on Macedonia's name qualified with a geographical adjective like "Republic of Northern Macedonia".
Greece blocked Macedonia's NATO accession last April and now threatens to do the same in the EU if Macedonia refuses to change its name, which Athens argues implies territorial claims over its own northern province o the same name. UN-sponsored talks for reaching a compromise have achieved little in over a decade of shuttle diplomacy.
The new president, which early opinion polls show will be Ivanov, will have the name row as one of the main items on their agenda.