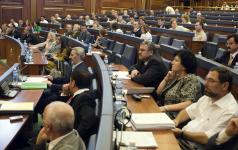 Kosovo's parliament held a special session on the first anniversary of its declaration of independence on Tuesday, with senior leaders conveying their wishes for the future and promising that the coming years will be more productive and positive.
"Our first year was a year of proud for Kosovo," said Prime Minister Hashim Thaci , who also thanked the people for their contribution for Kosovo's independence from Serbia.
"Each citizen should be proud for our achievements. We ratified the most important document of the Republic of Kosovo. Our key success was unity," he said, adding that the government was working to protect the rights of all citizens and ethnic communities living in Kosovo.
Jakup Krasniqi, speaker of Kosovo's Parliament said "this is the first anniversary of the newest state in Europe of the oldest population on the continent."
" The independence came after sacrifice from the population under the Serbian regime. We belong to the motherland as we belong to our mothers", said Krasniqi, adding that nevertheless Kosovo is able to shake hands with Serbia.
He called on Belgrade to recognize Kosovo in order to start the cooperation for the benefit of both countries, adding that any effort to breach Kosovo's territorial integrity will be condemned and resisted.
Kosovo's President, Fatmir Sejdiu said that Kosovo needs to work a lot to ensure a better future for its people, the youngest population in Europe. 
"We call from all of you to work that our dear Kosovo becomes a country which protects and preserves the rights of everyone. God Bless Kosovo. God Bless Kosovo's friends".
Pieter Feith, head of the International Civilian Office, ICO, while addressed the parliament encouraged political authorities to work for a European future.
"I walked this road with you and I salute you for all the works done in your republic", said Feith. "Urime Ditelindjen Republike. Srecan Rodendan", added Feith at the end of his speech, saying Happy Birthday in Albanian and Serbian.