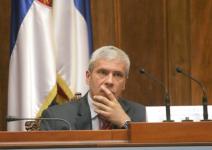 Kosovo is not an independent state despite seceding from Serbia a year ago, Serbia's President Boris Tadic told AFP in an interview
For Serbia, the Feb. 17 anniversary is "a day when the authorities in Pristina declared the independence of Kosovo in an illegal way, based on international law," Tadic said.
"A year later, it's clear to everyone who wants to see the real situation in Kosovo that it's not a state," he said, adding that its status as a failed state was glaring, particularly on the issue of human rights.
The level of "human rights protection is really minimal, which is proven by the lack of Serbs and other refugees returning to their homes."
Tadic also accused Kosovo authorities of failing to fight organized crime, notably drug trafficking.