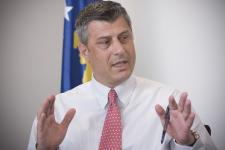 Russia will not recognise Kosovo as an independent and sovereign country, Russian Foreign Minister Sergei Lavrov said on Friday, in response to statements by Kosovo Prime Minister Hashim Thaci that the Kremlin would eventually accept Kosovo's secession from Serbia and recognise it as independent.
"Kosovo Prime Minister Hashim Thaci mistakes wishful thinking for reality. Russia's position has been explained by its leadership, and I have reiterated it today," Lavrov said on Friday, after meeting Serbian Foreign Minister Vuk Jeremic.
In an interview for a Belgrade daily last week, Thaci stated that even Russia, a great ally of Serbia and one of the strongest opponents to Kosovo's independence, will support positive developments and eventually recognise independence of Kosovo.
Kosovo declared independence from Serbia on February 17, 2008 and has so far been recognised by most EU and NATO member countries. Serbia, backed by its traditional ally Russia, have vowed to never accept the secession and are blocking Kosovo's entry into the United Nations.