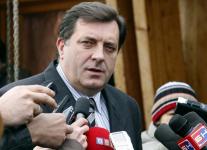 Bosnia's State Investigation and Protection Agency, SIPA, has pressed charges for fraud and misuse of public funds against the Premier of the Serb-dominated Bosnian entity of Republika Srpska, Milorad Dodik and several other Bosnian Serb senior officials.
The move, apparently done outside the usual legal channels and standard criminal procedures, has enraged Bosnian Serb leaders and triggered volleys of Bosnian Serb counter-accusations against Bosniak (Bosnian Muslim) and international officials of trying to "frame" Bosnian Serb leaders in a "politically-motivated" with-hunt.
This turn of events is likely to further worsen personal and political animosities among the country's local leaders, whose radical rhetoric and uncompromising attitudes over the past few years have led the country into its worst crisis since the end of the 1992-95 war.
Bosnian Serb officials – and the rest of country's public – learned about the charges which SIPA has pressed against Dodik only on Thursday evening, while they were reportedly submitted by SIPA to the Prosecutor's Office already on Tuesday. Only a few details, mostly from anonymous sources, became available throughout Friday.
According to these reports, Dodik and 11 other Bosnian Serb officials – mostly ministers from Dodik's government – have been charged with possible fraud and misuse of some 70 million of euros from the entity's budget. The fraud and misuse of funds is linked to several construction and development projects from 2007 and 2008, including the construction of a new government building, renovation of the Repbulika Srpska President's office, work on the Banja Luka –Gradiska highway, and others.
Based on repeated claims by local media and anti-corruption NGOs that both the law and usual tender procedures were violated in these cases, SIPA tried to get hold of documentation related to those cases from the Republika Srpska government, and succeeded only under strong international pressure.
While several Bosniak parties cheered the development, Bosnian Serb leaders strongly condemned the procedural irregularities. Bosnian Serb officials in both SIPA and Prosecutor's office said they were not aware of the charges until media reported about it. The spokesman of the Prosecution Office, Boris Grubesic, refused to comment on the case.
Dodik and his political allies condemned SIPA's move saying the "politically motivated" case is actually aimed at preparing the ground for Dodik's removal from power by Bosnia's new head of the Office of the High Representative, who is expected to be named in the coming week.
"This is aimed at weakening the position of Republika Srpska," said Rajko Vasic, the general secretary of Dodik's ruling party, the Alliance of Independent Social Democrats.