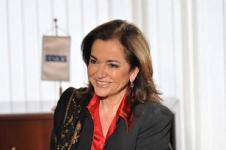 Greek Foreign Minister Dora Bakoyannis, in a speech to the influential Brookings Institution in Washington, said Athens was concern about developments in Bosnia-Herzegovina, Macedonia and Turkey.
Speaking on Monday on the theme "Collective Security in the 21st century; Building new bridges", Bakoyannis said: "Let me be as clear as I can: For us there is no doubt that the only way forward is full membership in the EU and NATO for the whole of South East Europe".
Bakoyannis said that Greece, as the oldest EU and NATO member in the region, felt a heightened responsibility to assist its neighbours on their road to progress through the necessary change and reform.
"Although we have come a long way since the 1990s, the region still remains a work in progress. We, in Athens, are quite concerned about developments in three areas."
In Bosnia-Herzegovina, 14 years after the Dayton Accords, much remained to be done, especially when it came to streamlining decision-making.
"A change in the mindset, the active participation of all its citizens and a certain degree of political consensus is needed. After some slow progress in 2008, 2009 is a crucial year in the European integration of the country in order to match this of its neighbours."
It was significant that "countless prophecies of doom" had not come true, she said.
"As it is equally significant that the citizens of Bosnia and Herzegovina, irrespective of religious and ethnic background, are looking forward towards a Euro-Atlantic future for their region. Yet, the state remains extremely fragile and the international community must re-engage," Bakoyannis said.
On Macedonia, which Greece declines to recognise under that name, she said that in the past couple of years a number of worrying signals had been coming from Skopje.
The government headed by prime minister Nikola Gruevski "appears to have chosen the road of nationalism, awakening Balkan ghosts," Bakoyannis said.
The forthcoming presidential elections in March 2009 would be another key test, she said, especially because the June 2008 were "marred by violence and voting irregularities".
On the prolonged and unresolved dispute between Athens and Skopje over the use of the name Macedonia, Bakoyannis said that "despite our good will and our sincere efforts, these negotiations have not been successful so far.
"We hope that the government of Skopje will meet us half-way and agree on a win-win solution," she said.