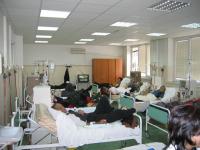 Around 13,000 Kosovo health workers went on strike on Tuesday to protest against delays in being awarded a pay hike, already promised last year.
Kosovo's Minsitry of Health promised to increase health workers' wages by at least 44 euro a month in October 2008, a pledge that has yet to be realized. The strike was called after talks with government officials failed.
"If the government decided not to realize this agreement that it signed, this is a serious signal questioning social dialogue, which the Federation has attempted", the Health Workers' Union said in a press release, adding that "…this declaration which overrides the agreement is against all the principles of a democratic government".
While the strike continues, the union has guaranteed that emergency medical care in Pristina will still be available for patients.