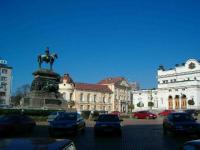 Bulgarian police found an unexploded bomb in the centre of Sofia in the early hours on Tuesday, the Interior Ministry said.
The manager of Planet night club on Oborishte street, between Alexander Nevsky cathedral and Vassil Levski Boulevard, called the police about a suspicious package left outside the place in the early morning hours.
Police immediately sealed off the area and the bomb squad was sent in to investigate the package. It was later identified to be an explosive device. Perpetrators tried to detonate it, but failed, police said.
If the device had gone off, it would have caused a huge blast. Fortunately, the fuse failed to produce a flame and extinguished itself, police said.
Last week, a bomb went off outside the entrance of Cafe Nero in Sofia's Ivan Vazov residential district in the early morning hours .
No one was injured in the blast, which caused minor damage to surrounding buildings. The same as Planet night club, Cafe Nero, on Vitosha Boulevard and Yanko Zabounov Street, is noted in the neighbourhood for customarily being surrounded by clusters of dark-coloured luxury vehicles parked close to the entrance.