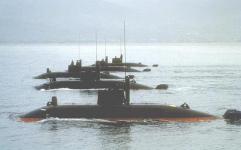 Montenegro will give each of its neighbours and former ex-Yugoslavs Serbia and Croatia a small submarine as a gift, said Montenegro's army chief of staff, Dragan Samardzic.
Slovenia already got one of the six small Tisa submarines, class Una, produced in the late 80's for the Yugoslav Navy in Croatia's Split harbor. They are 18.8m long, 2.7m wide and 3.4m high and built "in the case of war to transport officers to the Italian coast for marine diversion to plant smaller mine fields there", ex-Yugoslav navy experts say. 
Only six of them were produced, Serbian national broadcaster RTS reported.
"We have four of the same type and want that they get into museums." Samardzic said. "We spoke about it with representatives of marines associations in Serbia and Slovenia and recently with the Croatian army,"
He said one of the submarines would stay in the coastal town of Tivat in the future Nautical Museum.