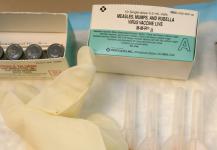 After several weeks of an intensive emergency vaccination campaign the mumps epidemic in Macedonia has topped 3,600 patiens, but authorities expect the infection to eventually let up in the coming weeks.
More than 35,000 people were vaccinated in the nation-wide action so far, the health ministry informs.
The epidemic started at the beginning of the month with about a hundred new infections every day. The emergency mass vaccination campaign was mainly aimed at all children aged 15-19 that had not been vaccinated before.
Official data show that more than half of the infected were children at this age group, while the capital Skopje is the most struck from the outbreak with almost 1,000 infected.
Mumps is a viral infectious disease that mainly attacks children. It is spread from person to person through contact with respiratory secretions such as saliva, but can also be spread by sharing food, drinks, and kissing. Symptoms including swelling of the glands close to the jaw, fever, headache and muscle ache.
Mumps is considered a mild to moderate disease, but carries the risk of complications including hearing loss, meningitis, sterility in men and spontaneous miscarriage.