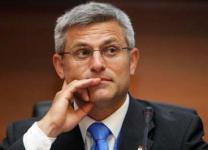 Serbia needs a new deal with the International Monetary Fund, but with that money going ensure the macro-economic stability of the country and not to protect the dinar rate, Serbia's central bank governor Radovan Jelasic said on Tuesday, adding that the state needs the deal also as an excuse for the unpopular measures it has to take.
In an interview with Politika daily, Jelasic said Serbia will ask for a new deal and more money from the IMF.
"It is clear that the return of the dinar to 80, 85/euro as soon as possible would suit some. It would immediately mean a drastic reduction of hard currency reserves. The others would like if the central bank would stop intervening on the market from the reserves causing very weak dinar. .. In the first case, we'd melt the hard currency reserves, in the second we'll provoke alack of euros," Jelasic said.
The cure for both extremes would be an increased inflow of hard currency. He said Serbia was reluctant to withdraw the 400 million euro from the IMF deal "for a simple reason – we'd eat that money for breakfast in the unchanged economic circumstances."
"Serbia needs essential changes for which it needs more money," he said. "That is why I think the key issue is to make another deal with the IMF, which would attract also an additional support by the international financial institutions."
"Everybody knows that as much as I do, but it is obviously easier to wait for the IMF to be our excuse for the unpopular tasks we have to undertake," the governor said. The IMF programme should ensure the necessary changes, including a significant reduction of spending.
"With the arrival of an IMF mission, we're going back to the start. A new revision will start, then reduction of the highest budget spending, wages, pensions, and the other less important categories. The only increase should be in infrastructure investments, that were lower than planed last year according to the Finance Ministry," he said.
"When there's no money, we always save on the capital investments and shift it all to spending. I hope that this time we'll be ready to clearly tell the IMF that we are ready to reduce spending."