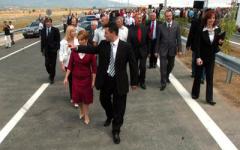 One of Macedonia's biggest infrastructure projects, the building of a ring road round the capital Skopje, is nearing completion after several delays, officials told local media on Monday.
Last July the authorities opened to traffic the first stretch of the 26-kilometer long road, part of the long running efforts by Bulgaria, Macedonia and Albania to build the east-west Corridor 8 to ease congested regional connections between them.
"The second 14 kilometer section should be finished by June", officials from Macedonia's road authority told local Dnevnik Daily. They said the one-year delay since last year's planed opening was due to the slow expropriation of land by the local residents, that is now almost finished.
The whole project began back in 2002 but was delayed several times due to protests by local residents.
The 70-million euro project is meant to tackle traffic jams, pollution and noise in the country's capital, since up to now all passing vehicles had to enter the city centre.
The full effect of the ring road will be seen only after the three countries complete their sections of the corridor. Leaders from the three countries have signed memorandums on this project for years but the money, estimated at several hundred million euros, is still lacking.
Last year Macedonia issued a tender for a company to build the highway in exchange for a concession.
Together with the railway connection that is also planned alongside the highway, this would allow the country a good alternative to the busy south-north Corridor Ten, currently the only European artery crossing Macedonia, linking it with Serbia and Greece.