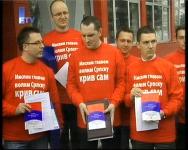 Seven Bosnian Serb officials pressed charges against themselves on Monday in what they said was a symbolic gesture of support to Republika Srpska Premier Milorad Dodik, who is facing corruption charges in a controversial case that has shaken Bosnia's political scene
The group, which included two advisors and five deputies in the Assembly of the Serb-dominated Bosnian entity of Republika Srpska said they wanted to show their solidarity with Dodik and several other senior Bosnian Serb leaders, who were charged last week by the State Investigation and Protection Agency, SIPA for possible fraud and misuse of budget resources.
These charges, processed in apparent violation of regular procedures and without the knowledge of Serb representatives in SIPA and the Office of the State Prosecutor, triggered a major scandal and renewed political tensions.
Bosnian Serb leaders said the charges were politically motivated and aimed at weakening the position of Republika Srpska and preparing the ground for Dodik's dismissal by the new High Representative whose appointment is expected any day.
The seven Bosnian Serbs appeared on Monday afternoon in the SIPA office in Banja Luka, where they officially pressed charges against themselves. They were all wearing red T-shirts with emblazoned message: "I think with (my own) head, I love (Republika) Srpska, I am guilty."
"This is not about the defense of Milorad Dodik, but about the defense of the entire Republika Srpska," said one of the seven, Danilo Petrovic, who is an advisor to the Bosnian Serb member of the presidency, Nebojsa Radmanovic. "Today it is Milorad Dodik, tomorrow it can be anybody else."
In addition to the seven self-indicted Bosnian Serbs, the entire Republika Srpska Lawyers' Chamber has come out to support Dodik and the other indicted officials, saying its members, some 520 lawyers and 240 legal assistants and other experts, would provide free legal assistance.
Meanwhile Dodik and his government are still contemplating a possible response which, according to Dodik, may include the withdrawal of Bosnian Serb officials from joint institutions or even calling of a referendum for independence. Dodik's repeated threats of a separation of Republika Srpska over the past three years have triggered the deep political crisis in which Bosnia is now.
Western officials, speaking on condition of anonymity, say that the charges against Bosnian Serb officials came at the worst possible moment and have been carried out in such an inappropriate way that it could "drastically escalate" the current crisis.